MVSDCH FC AFC Si Cisco JH - "Cisco"
---
Reg. Name: FC AFC Si Cisco JH
Call Name: Cisco
DOB: 4.8.04
Sex: Male
AKC#: SR17112104
FDSB#: 1576577
DNA#: V381435
OFA: GOOD - VZ-9733G24M-PI
Sire: FC AFC Upwind Shiloh Mark of Zorro
Dam: AFC Shiloh Madach's Mishka
Breeder: Robert Tomczak
Cisco's Pedigree
Cisco's Field Trial Placement Record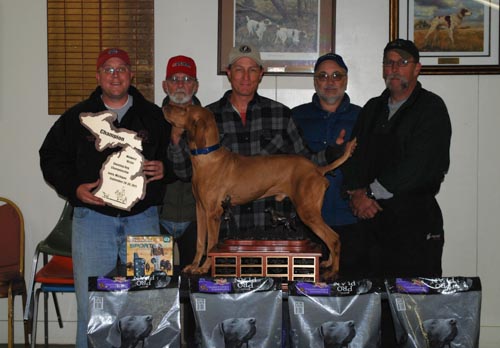 Cisco is my constant and loyal companion, with a strong desire to please. He has an exceptional temperament and sweet, loveable personality. His tail rarely stops wagging, and you can always figure out what crate he's in by simply saying "Oh, Cisco" and listening for the "thump, thump, thump" response of his tail. He is easy going in the house and content wherever he may be and with whatever he's doing. He was always happy in the house one day and the kennel the next, though now that he is a senior and retired, he lives in the house full-time . He loves people, adults and kids alike, and has never met a stranger. More importantly, he passes these wonderful traits on to his offspring.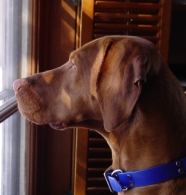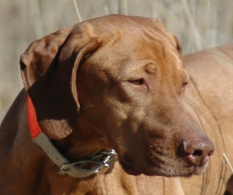 Don't let Cisco's calm demeanor and easy going nature fool you, though. He is a proven performer in the field. He has a keen nose, beautiful style on point and incredible drive and desire to hunt. Simply put, Cisco is a bird dog.
Cisco is both an accomplished field trial dog and hunting companion. As a two year-old, he took 3rd Runner-up at our breed's largest-ever Futurity (33 entrants) in 2006 and finished both his Field Championship and Amateur Field Championship in the Spring of 2009. Cisco was named the Vizsla Club of Michigan's Amateur Gun Dog of the Year for 2008, 2009 and 2010. In 2011, he became an American Field Champion by winning the Midwest Vizsla Shooting Dog Championship.
Cisco is not just a field trial dog, but also a productive hunting companion. I've shot pheasants over him in five different states and last fall marked his first experience Grouse and Woodcock hunting. His excellent nose, pleasing style and intensity on point are matched only by his drive and desire. He has the stamina to hunt all day and often does.
Cisco passes his prowess in the field on to his offspring as well. His first mating to Rio produced the Vizsla Club of America's #1 Top Ten Puppy/Derby dog in the country for the latter part of 2008 and the first half of 2009.
Cisco's first mating to Nena produced Midnight Run's Gabi, who won the National Vizsla Association's 2013 National Champoinship. Gabi is owned by Joe Cronin & Sarah Nordgren, from New York, NY, and trained and handled in the field by Brian Gingrch.

Cisco's son, Case (A Casexx for JT Becker), out of Mae, won the 2014 NVA National Quail Championship. Case is owned by David and Marie Knight of Griffin, GA, and trained and handled in the field by Jamie Fountain.
One of Cisco's first litters produced Bailey (Bailey's Rooster Dreamin), who took 3rd place at the National Shoot-To-Retrieve Association's Ohio Regional Championship in early May 2009. Bailey is the first Vizsla to place in the Top 6 in the history of the Ohio Regional (he was also the only Vizsla qualified to run in that year's field of 56 dogs). Bailey was invited to compete at the NSTRA's 2009 Dog of the Year Championship in Amo, Indiana, and made the second round. He was the ONLY Vizsla, in a field of 192 pointing dogs, qualified to compete. The 2008 DOTY Championship featured 192 dogs and there wasn't a single Vizsla! Bailey went on to finish his NSTRA Champoinship in 2013. Bailey has become a fixture at the top of the standings in Ohio Shoot-to-Retrieve and, at nine years of age, is still going strong in the field.
A number of Cisco's other offspring have field trial placements and hunting test titles, including at least two Master Hunters (Cheyenne Blue River Sky MH & Pink Lightning MH). They are all loved family members. His grandkids are now enjoying success in the field as well.
Cisco comes from excellent lineage. His sire, Zorro, is a Field Champion and Amateur Field Champion, and his dam, Mishka, is also an Amateur Field Champion. There are a number of other Field Champions and accomplished dogs in his pedigree. Its no accident that he is who he is, or that he produces such wonderful pups.