Shiloh's Midnight Run - "Nena"
---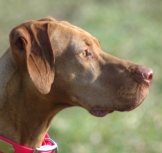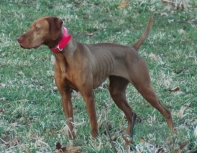 Reg. Name: Shiloh's Midnight Run
Call Name: Nena
Nicknames: Neener, Neenz, Nuni
DOB: 4.24.06
Sex: Female
AKC#: SR36328801
FDSB#: 1592295
DNA#: V453599
OFA: VZ-10825G24F-PI (GOOD)
Sire: Hillbillies Shiloh Holy Man
Dam: Shiloh's Oracle
Breeder: Robert Tomczak
Nena's Pedigree
Nena's Field Trial Placement Record
Nena and Rio are thick as thieves and make a wonderful pair in the home. Rio may be number one around here, but Nena isn't far behind, and she's my girlfriend's faithful sidekick whenever she's home.
Nena may be quiet most of the time, but she gets excited when its dinner time or "booooooone" time. She has tons of personality and the voice to match. There's no doubt when Nena wants something, because she'll tell you all about it! Her "kids" typically like to talk as well. I love it.
Much like Rio, Nena's calm demeanor gives way to a little dynamo in the field. Nena has strong desire, a keen nose, pleasing style and intensity on point, and stamina in spades. She has incredible ground speed, applies herself well, and is as athletic as any dog I've ever owned. Her vertical leap is especially impressive (she can clear the top of a 6 foot tall fence while jumping straight up), yet she's never once jumped over the fence. Nena is a fantastic companion afield and has a knack of finding birds, much like her sister Rio.
Nena's field trial career, although short, was highlighted by a number of wins and noteworthy performances. She excelled against all-breed competition, winning puppy and derby stakes at GSP and GWP club trials. After only one spring, Nena reached #5 on the Vizsla Club of America's Top Ten Puppy/Derby list at one year of age. A poorly timed heat cycle just before the fall season made competing difficult. Despite not running for nearly a year, she remained on the Top Ten until she turned two years old in April 2008 and aged out. Nena was the Vizsla Club of Michigan's Puppy/Derby Dog of the Year for 2007.
Nena's first mating to Cisco produced Midnight Run's Gabi, who won the National Vizsla Association's 2013 National Champoinship. Gabi is owned by Joe Cronin & Sarah Nordgren, from New York, NY, and trained and handled in the field by Brian Gingrch.
Nena's field ability should come as no surprise. Her paternal grand-sire, Raany, was a Field Champion, Amateur Field Champion and Senior Hunter, and is the breed's second all-time leading producer of Field Champions. Her paternal grand-dam, Jazzmin, is a Field Champion and Amateur Field Champion and has multiple National Field Trial Placements. On her mother's side, Nena's maternal grand-sire, Jumping Jack Flash II, was the Vizsla Club of America's 2006 National Amateur Field Champion, and her maternal grand-dam comes from excellent stock descending from our breed's number one producer of Field Champions, DC Rebel Rouser E T HOF (by way of DC AFC Rebel Rouser N Linden's Cyote SH).